'The Perfect Location' for your Holiday Home for Great Days out!
Not only is Neuadd Bridge situated in some of the most breathtaking scenery to be found, but it is also ideally located to explore the Heart of Magical Mid Wales and some of the attractions it has to offer.
These are just a few of the huge variety of attractions that can be found nearby and with the beaches of the Mid Wales coastline within easy reach, Neuadd Bridge is the perfect central location for your Holiday home.
The canal is the best location in the world for floating water plantain. Otters and water voles have also been spotted along its length. Several nature reserves border the canal, filled with wildflowers and insects, including dragonflies and damselflies.
Walking or cycling along the towpath is an excellent way to experience the peace and tranquility of this rural canal. The canal towpath has recently been resurfaced between Newtown and Welshpool and work continues to the border at Llanymynech.
This is also a popular canal for canoeing – paddling quietly through peaceful green surroundings is a great way to spot wildlife.
The canal is home to 126 listed structures including the Llanymynech limeworks which includes the rare restored Hoffman Kiln and Chimney, both features of a forgotten industrial past that included quarries, limekilns and woollen industries.
While the canal was closed to boats for many years, it is now being reborn as a cruiseway through the picturesque Welsh Marches. One restored section connects to the Llangollen Canal, while the other is only accessible by a slipway at Welshpool. Work continues to join the two sections through volunteers and the work of the restoration partnership.
https://canalrivertrust.org.uk/enjoy-the-waterways/canal-and-river-network/montgomery-canal
Medieval castle rising dramatically above the celebrated garden
The world-famous garden, overhung with clipped yews, shelters rare and tender plants. Laid out under the influence of Italian and French styles, it retains its original lead statues and an orangery on the terraces. High on a rock above the terraces, the castle, originally built circa 1200, began life as a medieval fortress.
Remodelled and embellished over more than 400 years, it reflects the changing needs and ambitions of the Herbert family - each generation adding to the magnificent collection of paintings, sculpture, furniture and tapestries.
A superb collection of treasures from India is displayed in the Clive Museum.
Just on the edge of The Snowdonia National Park and south of Lake Bala, Lake Vyrnwy is set amidst the remote and beautiful Berwyn Mountains. With spectacular waterfalls, and unspoilt open countryside, a visit to Lake Vyrnwy is a wonderful day out for all the family. A short drive from the Shropshire border (The Welsh Marches) it is an easy day out from Birmingham, Liverpool, Chester or Manchester and is the perfect base for exploring Snowdonia, The Welsh Marches and the coast from Harlech to Aberystwyth.

Come and experience the walks and trails of the 24,000 acre RSPB Reserve, with viewpoints and hides around the Lake to observe the amazing variety of birds and scenery. Walk through the visionary Sculpture Park below the Dam. There are plenty of activities too, including boating, adventure activities, cycle hire, walking and horse trails. There are local craft shops to visit and excellent places to eat. Stay a while in the wide range of high quality accommodation, some offering brand new spa facilities. The very best rough shooting, fly fishing and clay pigeon shooting are available too. There is plenty of free car parking. The spectacular scenery is free too!'
Welshpool & Llanfair Light Railway
The Welshpool & Llanfair Light Railway was opened in 1903 to link the market town of Welshpool to the rural community of Llanfair Caereinion, this 2 foot 6 inch narrow gauge steam railway now provides a tourist service for all the family and a welcome change from the rush of every day life. Built as a Light Railway to avoid some of the costs of railway construction, the narrow gauge allows for tight curves and steep gradients, enabling the line to follow the contours of the countryside. Most of our trains are steam hauled, either by one of our unique original locomotives or one from abroad. The carriages too are special; those in regular use being from Hungary and Austria with access to the enclosed seating area via an open balcony - a great way to watch the world go by.
You may well ask why planes ???????
For those interested in planes Mid Wales has one of the best plane spotting opportunities for any enthusiast. I have to say it is a great day out for everyone even if you are not a plane spotter.....
Mid Wales is home to the Mach Loop which is a military low level fly zone.
An almost circular flying loop round the mountains of Mid Wales used for training by not only the RAF but also international Air Forces.
Imagine sitting on the side of a Welsh Mountain side whilst an RAF Tornado or Typhoon fly's past you at eye level only a few hundred feet in front of you.
Mid Wales has an abundance of wildlife centres and beautiful countryside in which to spot and enjoy its large and diverse range of wildlife. Even on the Park it is common for us to see a Fox or a badger with birds ranging from goosander and kingfisher to woodpeckers and of course the red Kite.
This magnificently graceful bird of prey is unmistakable with its reddish-brown body, angled wings and deeply forked tail. It was saved from national extinction by one of the world's longest-running protection programmes. It has now been successfully re-introduced to Wales. Red kites are listed under Schedule 1 of The Wildlife and Countryside Act.
Where Red Kites were down to only a handful of breeding pairs now it is not unusual to see many of these over Mid Wales. A special sight is to watch the Red Kite feeding at farms such as Gigrin at Rhayader.
With many woodland or countryside rambles or the option of mountain walks in nearby Snowdonia you couldnt get a more perfect location to base your Holiday Home for Walking.
Locally we have great walks along the Montgomeryshire Canal, and a beautiful walk from Welshpool Town Centre through Powis Park and up to the Castle.
Llanrhaeadr Waterfall offers a great walk from the base of the waterfall to the top over the river and back down the other side.
Lake Vyrnwy has an abundance of walks with some breathtaking scenery and views of the lake. You can even take in some bird watching at the many RSPB hides.
The Rainbow trails through the dyfnant forest are also very popular.
Derry woods is our local woodland in the village and offers a lovely short walk. The paths are very well maintained in this woodland thanks to funding and you may even spot some of the nesting pied flycatchers.
Cader Idris and the whole of the Snowdonia Mountain range are also well within easy reach if your walking ambitions are a little more rigorous .
Neuadd Bridge is located in the Heart of Mid Wales but within easy reach of the Mid Wales Coastline.
The coast is as near as 38 miles away with the seaside towns of Aberystwyth, Borth, Twyn, Fairbourne, Barmouth, Harlech and Porthmadog all within an hours drive.
Other Attractions Include
Here are a few of the other attractions that Mid Wales has to offer :-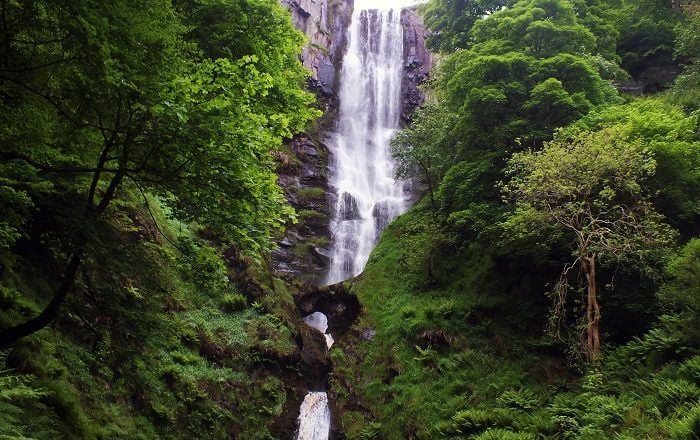 Pistyll Rhaeadr is an enchanting waterfall in the Berwyn Mountains, just inside Wales, west of Oswestry and Shrewsbury.
At 240ft (80m) high it is Britain's tallest single-drop waterfall, captivating all who visit her. Generation after generation take in the spirit and presence of this special place. Many mention how quickly they find peace and reverence within themselves, seldom found in our busy and fragmented world.
It's a great place to explore the Berwyn Mountains and surrounding hills, with many walks to suit a variety of walkers.
Tan-y-Pistyll, little house under the waterfall, is where our tea room and B&B accommodation are located. Here you'll find a welcome cup of tea, a snack or meal with a lovely view of the waterfall from the garden or, when it's colder, a warm logfire to sit by.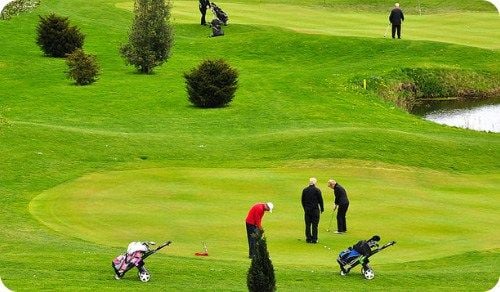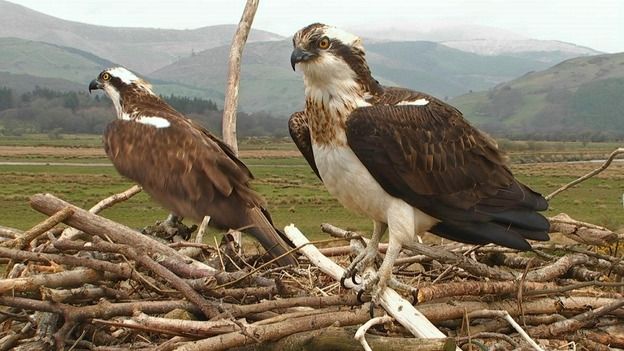 The Dyfi Osprey Project has been running at Cors Dyfi Nature Reserve near Machynlleth since 2009.
In 2007 we erected an osprey platform on our Cors Dyfi reserve in response to an increasing number of osprey sightings each spring and autumn. By the following summer there was a male osprey and sightings of many other birds, but no breeding took place.
Although no breeding took place in 2009, we had our first chance to have a really good look at what was happening on the Dyfi nest and try and identify them as individuals - an extremely difficult task. We had an un-ringed male who seemed to regard the platform nest we erected two years previously as his own. We named this bird 'Monty' after Montgomeryshire.
Forward on to 2017 and the first of April 2017 saw Monty and Glesni's earliest arrival at the Dyfi nest yet. With both birds back early the breeding season was soon under way. Glesni laid three eggs which all hatched and together she and Monty raised three strong chicks. Aeron (Blue Z2), and his sisters Menai (Blue Z3) and Eitha (Blue Z4) all successfully migrated before the end of August.